Affordable Web Design in Farnham
We are an Award-Winning web design agency based near Farnham in Haslemere. We can help guide you through the process of getting your website designed or re-designed. We have web design packages for all budgets including a powerful website management tool so you can update and change your own content and images.  We work with many different companies from start-ups to large national corporates.
Professional Web Design for Farnham…
Are you a Farnham based business? Talk to us about your web design project. We make the process as easy for you as possible and can help at every stage including:
Web & Email hosting
Domain name registration
Logo design
Professional, flexible web design that fits any screen or device
Search Engine friendly web design
Copywriting
Photography
Ecommerce and Content Management Systems
Print materials e.g. business cards & letterheads
User training (easy to follow videos) and ongoing help
Advice and guidance
Google rankings advice and guidance
Ready to get started?
If you don't know where to start or are confused by all the options, call us in Haslemere on 01428 788170 or complete the contact for below and we can guide you through the process of getting your business online.
Contact us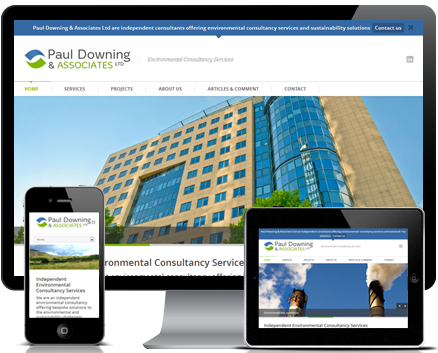 Maggie Walton-Swan Interior Design is happy to recommend Redhead Media for logo design and website development. Through a very straightforward process and a quick turnaround on new ideas and changes whilst in development, we were able to create a website that I am very proud of. Vinny also produced some excellent, personalized WordPress tutorials – these have allowed me to take control of the content management and he has also helped me with lots of small queries after the website went live. Maggie Walton-Swan
Web Design Farnham – Common Questions & Concepts
Do you need a responsive website? A responsive design ensures your website will always look good no matter what device is being used to view it – for example, change the browser size on this website and see what happens… You may already be looking at this website on an ipad or smartphone.
If you are ready with your web page wording and the website is relatively small, you could be up and running within 2/3 weeks depending on our current project load.
Updating your website through a content management system gives you the power to change, add and grow your website. This is the real power behind search engine success as Google loves fresh interesting content for your audience.
The most common question we get asked and it really does depend on what you want the website to do – We have a solution for every budget so call us and we can help.